Skip navigation
AF
Interface recognised at Anticoagulation Awards
A pharmacist led programme to assist primary care sites in the North West prevent atrial fibrillation (AF) related strokes has been commended at the prestigious Anticoagulation Achievement Awards (AAA), a body which identifies outstanding practice in the delivery of anticoagulation services across the UK.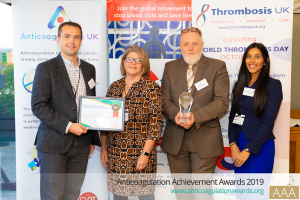 Commended in the category of "The centre best able to demonstrate adherence to NICE Quality Standards for atrial fibrillation" were Tameside and Glossop CCG who worked in partnership with pharmacists from Interface Clinical Services and Health Innovation Manchester to deliver a programme which was designed to improve all aspects of patient care from the correct identification and diagnosis of AF to ensuring patients with AF were optimally anticoagulated.
The review was commissioned following NHS Right Care data which reported that the region showed a significant variation in the reported, versus the expected prevalence of AF. A team of clinical pharmacists from Interface Clinical Services worked closely with clinicians and nurses from 38 practices to review their AF population with the aim of reducing incidents of AF related strokes through early diagnosis, optimisation of anticoagulation therapy, improvement of the management of 'known but not treated' patients and support of patients via educational material, treatment adherence and lifestyle advice.
The programme which involved the assessment of over 4,500 patients, resulted in significant benefits to both patients and the NHS as it demonstrated a decrease in the projected 12 month stroke incidence within the region from 76.82% to 66.96%. External stroke admissions data showed a 22% reduction in strokes for a three month period following the completion of the programme compared to the previous year which, based on these figures, predicts that 114 strokes could be prevented each year. In terms of cost savings, with the current average societal cost of a stroke estimated at £45,409 in the first 12 months plus £24,778 in subsequent years, strokes prevented within Tameside and Glossop CCG could account for an in year NHS cost saving upwards of £1.5million and an overall societal cost saving of almost £5.2million.
Interface Service Development Lead, Jack Birchall who led the review comments: "We were absolutely delighted to be commended at the AAA awards as it recognises the importance of long term review and monitoring of AF patients in preventing strokes. During the review, we stratified AF patients who were at high risk of stroke. We then not only ensured that they were receiving optimal therapy to reduce the risk of stroke, reviewing vitamin K antagonists (VKAs) or direct oral anticoagulants (DOACs) usage, but also talked directly to patients about the risk and symptoms of stroke or TIAs as many people with AF are not aware that they are five times more likely to suffer a stroke or TIA due to the formation of blood clots which can block arteries to the brain."
About the awards
The Anticoagulation Achievement Awards (AAA) recognise the outstanding work of the medical centres, teams and individuals across secondary and primary care and community services who demonstrate innovation and excellence in delivering anticoagulation services, resources or individual leadership.
Kearsley Medical Centre
NHS Airedale, Wharfedale and Craven CCG
NHS Ashford CCG
NHS Barking & Dagenham CCG
NHS Barnet CCG
NHS Barnsley CCG
NHS Basildon and Brentwood CCG
NHS Bassetlaw CCG
NHS Bath and North East Somerset CCG
NHS Bath and North East Somerset, Swindon and Wiltshire CCG
NHS Bedfordshire CCG
NHS Berkshire West CCG
NHS Bexley CCG
NHS Birmingham and Solihull CCG
NHS Blackburn with Darwen CCG
NHS Blackpool CCG
NHS Bolton CCG
NHS Bradford City CCG
NHS Bradford District and Craven CCG
NHS Bradford Districts CCG
NHS Brent CCG
NHS Brighton & Hove CCG
NHS Bristol, North Somerset and South Gloucestershire CCG
NHS Bromley CCG
NHS Buckinghamshire CCG
NHS Bury CCG
NHS Calderdale CCG
NHS Cambridgeshire and Peterborough CCG
NHS Camden CCG
NHS Cannock Chase CCG
NHS Canterbury and Coastal CCG
NHS Castle Point and Rochford CCG
NHS Central London (Westminster) CCG
NHS Cheshire CCG
NHS Chorley and South Ribble CCG
NHS City and Hackney CCG
NHS Coastal West Sussex CCG
NHS Corby CCG
NHS County Durham CCG
NHS Coventry and Rugby CCG
NHS Crawley CCG
NHS Croydon CCG
NHS Darlington CCG
NHS Dartford, Gravesham and Swanley CCG
NHS Derby and Derbyshire CCG
NHS Devon CCG
NHS Doncaster CCG
NHS Dorset CCG
NHS Dudley CCG
NHS Durham Dales, Easington and Sedgefield CCG
NHS Ealing CCG
NHS East and North Hertfordshire CCG
NHS East Berkshire CCG
NHS East Lancashire CCG
NHS East Leicestershire and Rutland CCG
NHS East Riding of Yorkshire CCG
NHS East Staffordshire CCG
NHS East Surrey CCG
NHS East Sussex CCG
NHS Eastbourne, Hailsham and Seaford CCG
NHS Eastern Cheshire CCG
NHS Enfield CCG
NHS Fareham and Gosport CCG
NHS Fylde & Wyre CCG
NHS Gloucestershire CCG
NHS Great Yarmouth & Waveney CCG
NHS Greater Huddersfield CCG
NHS Greater Preston CCG
NHS Greenwich CCG
NHS Guildford and Waverley CCG
NHS Halton CCG
NHS Hambleton, Richmondshire and Whitby CCG
NHS Hammersmith and Fulham CCG
NHS Haringey CCG
NHS Harrogate and Rural District CCG
NHS Harrow CCG
NHS Hartlepool and Stockton-on-Tees CCG
NHS Hastings & Rother CCG
NHS Havering CCG
NHS Herefordshire and Worcestershire CCG
NHS Herefordshire CCG
NHS Herts Valleys CCG
NHS Heywood, Middleton & Rochdale CCG
NHS High Weald Lewes Havens CCG
NHS Hillingdon CCG
NHS Horsham and Mid Sussex CCG
NHS Hounslow CCG
NHS Hull CCG
NHS Ipswich and East Suffolk CCG
NHS Isle of Wight CCG
NHS Islington CCG
NHS Kent and Medway CCG
NHS Kernow CCG
NHS Kingston CCG
NHS Knowsley CCG
NHS Lambeth CCG
NHS Leeds CCG
NHS Leicester City CCG
NHS Lewisham CCG
NHS Lincolnshire CCG
NHS Lincolnshire East CCG
NHS Lincolnshire West CCG
NHS Liverpool CCG
NHS Luton CCG
NHS Manchester CCG
NHS Mansfield & Ashfield CCG
NHS Medway CCG
NHS Merton CCG
NHS Mid Essex CCG
NHS Milton Keynes CCG
NHS Morecambe Bay CCG
NHS Nene CCG
NHS Newark & Sherwood CCG
NHS Newcastle Gateshead CCG
NHS Newham CCG
NHS Norfolk & Waveney CCG
NHS North Central London CCG
NHS North Cumbria CCG
NHS North Durham CCG
NHS North East Essex CCG
NHS North East Hampshire and Farnham CCG
NHS North East Lincolnshire CCG
NHS North Hampshire CCG
NHS North Kirklees CCG
NHS North Lincolnshire CCG
NHS North Norfolk CCG
NHS North Staffordshire CCG
NHS North Tyneside CCG
NHS North West Surrey CCG
NHS North Yorkshire CCG
NHS Northamptonshire CCG
NHS Northumberland CCG
NHS Norwich CCG
NHS Nottingham and Nottinghamshire CCG
NHS Nottingham City CCG
NHS Nottingham North & East CCG
NHS Nottingham West CCG
NHS Oldham CCG
NHS Oxfordshire CCG
NHS Portsmouth CCG
NHS Redbridge CCG
NHS Redditch and Bromsgrove CCG
NHS Richmond CCG
NHS Rotherham CCG
NHS Rushcliffe CCG
NHS Salford CCG
NHS Sandwell and West Birmingham CCG
NHS Scarborough and Ryedale CCG
NHS Sheffield CCG
NHS Shropshire CCG
NHS Somerset CCG
NHS South Cheshire CCG
NHS South East London CCG
NHS South East Staffs and Seisdon Peninsular CCG
NHS South Eastern Hampshire CCG
NHS South Kent Coast CCG
NHS South Lincolnshire CCG
NHS South Norfolk CCG
NHS South Sefton CCG
NHS South Tees CCG
NHS South Tyneside CCG
NHS South Warwickshire CCG
NHS South West Lincolnshire CCG
NHS South West London CCG
NHS South Worcestershire CCG
NHS Southampton CCG
NHS Southend CCG
NHS Southport and Formby CCG
NHS Southwark CCG
NHS St Helens CCG
NHS Stafford and Surrounds CCG
NHS Stockport CCG
NHS Stoke on Trent CCG
NHS Sunderland CCG
NHS Surrey Downs CCG
NHS Surrey Heartlands CCG
NHS Surrey Heath CCG
NHS Sutton CCG
NHS Swale CCG
NHS Swindon CCG
NHS Tameside and Glossop CCG
NHS Tees Valley CCG
NHS Telford & Wrekin CCG
NHS Thanet CCG
NHS Thurrock CCG
NHS Tower Hamlets CCG
NHS Trafford CCG
NHS Vale of York CCG
NHS Vale Royal CCG
NHS Wakefield CCG
NHS Walsall CCG
NHS Waltham Forest CCG
NHS Wandsworth CCG
NHS Warrington CCG
NHS Warwickshire North CCG
NHS West Cheshire CCG
NHS West Essex CCG
NHS West Hampshire CCG
NHS West Kent CCG
NHS West Lancashire CCG
NHS West Leicestershire CCG
NHS West London (K&C & QPP) CCG
NHS West Norfolk CCG
NHS West Suffolk CCG
NHS West Sussex CCG
NHS Wigan Borough CCG
NHS Wiltshire CCG
NHS Wirral CCG
NHS Wolverhampton CCG
NHS Wyre Forest CCG